Technical Information for
Tube Fittings And Pipe Fittings Material
Our products are led by simplicity with you in mind
Tube Fitting-Double Compression
Size:

Fractional - 1/16" to 2" and Metric - 3mm to 38mm

End Connection:

OD Tube, NPT, BSP, BSPT

Material:

SS 316, SS316L, SS304, SS304L, CS, Brass, Monel, Inconel & Haste-Alloy

Testing:

All fittings are tested as per relevant standards

Temperature Range:

-20 C to 100 C
Thread Specifications:
American National Pipe Thread - (NPT), as per ANSI B1.20.1
British Standard Pipe Taper Thread - (BSPT), as per BS21, ISO 7/1
British Standard PipeThread - (BSPP), as per BS2779, ISO 228/1
Metric, as per ISO 261, ANSI B1.13M
Unified National Pipe Thread - (UN/UNF [SAE]), as per ANSI B1.1
Specifications to which the fittings perform
Proof Pressure Test

Test assemblies to be subjected to a pressure of 1.5 times the maximum working pressure of the Fittings applied at the rate of 200 kg/cm2 per minute and maintained at final pressure for five minutes without leak.

Dismantling And Reassembly Test

Test assemblies successfully completing the Proof Pressure Test above are dis-assembled and assembled twenty five times after which they must pass the Proof Pressure Test.

Minimum Hydraulic Burst Pressure

Apply hydraulic pressure to the test assembly upto a maximum of four times the working pressure at the rate not exceeding 200kg/cm2 per minute and maintain for five minutes without leak.

Minimum Static Vacuum Test

Test assemblies satisfactorily Proof Pressure Tested are subjected to negative pressure upto 700 mbar and then isolated from the vacuum pump. The assembly must maintain the vacuum for fifteen minutes. The assemblies are suitably decreased before the test and total exhausted volume should not exceed 20% of the total assembly volume. This test can also be given at two temperature for cryogenic applications.

Hydraulic Impulse Vibration Test

Test assemblies suitably Proof Pressure Tested are connected to a hydraulic pressure impulse and vibration test bench and subjected simultaneously to pressure impulses at 30 to 100 cycles per minute and vibration in two mutually 6 5 perpendicular planes at 1,300 to 2,820 cycles per minute for a minimum of 5 x10 pressure impulses and 20 x10 vibration cycles. The only permissible re-tightening is allowed after the first 1,000 pressure impulses to allow for bedding-in. When subjected to the test described this coupling should not leak in the assembly. Couplings that fail shall be examined for signs of cracking due to fatigue stress.

The above tests have been specified in the standards BS 4368 Part IV:1984. Customers working with high temperatures have specified a temperature cycling test which requires test assemblies to be subjected to suitable temperature cycles and then subjected to the Proof Pressure Test without leakage. Other customers working with gases have specified a 6 helium leak test with leak rates not exceeding 2 x10 STD. CC/SEC.
Tube Selection
The following variables should be considered when ordering tubing for use with tube fittings:
Surface Finish
Material of construction
Hardness
Wall thickness
Assembly
IXX Tube Fittings are used for leak proof, torque-free seal in different instrumentation & process tubing connection. Consisting of four parts i.e., a Nut, Back Ferrule, Front Ferrule and Body, the Tube Fitting Assembly & Pre-Swaging technique is as follows.
Swaging Process
| | |
| --- | --- |
| 1 | Insert the Tubing into the Tube Fitting Body, make sure that the Tubing rests firmly on the shoulders of the Fitting and that the nut is snug tight, in this position the Tube does not rotate by hand. |
| | |
| 2 | Before tightening the Nut, scribe the Nut at the 6. O'clock position. |
| | |
| 3 | Now while holding the Fitting Body steady with a backup wrench, tighten the Nut *1-1/4 turns. Watch the scribe mark, make one complete revolution and continue to the 9. O'clock position. *For 1/8" and 3/16" size Tube Fittings, only 3/4 turns from finger-tight is required. |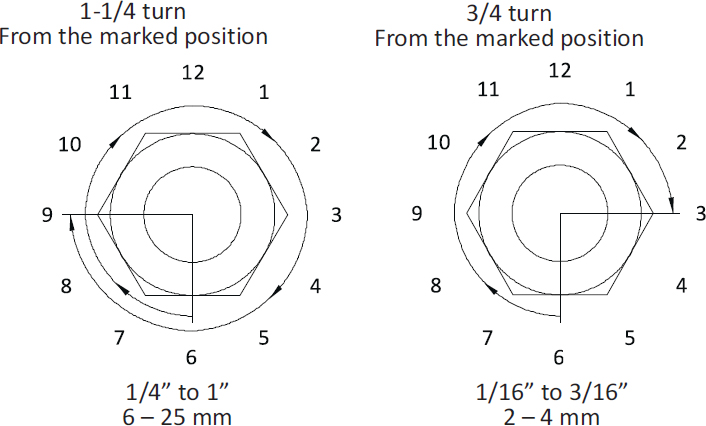 Inter-Changeability
The Design of IXX Tube Fittings are similar to certain other well-knownInternational Fitting manufacturers IXX guarantees the functional interchange-ability without disturbing the performance and reliability.
Identification of Metric Twin Ferrule Tube Fittings from fraction
These two are similar in appearance. To avoid any confusion and for ready identification, the stepped shoulders are machined on the body and on the hex nut of metric size Tube Fittings as shown.